The Program
Stage 1: OPEN WATER DIVER
Step into the Spectacular Underwater World!
In this first stage of the program, you will learn recreational diving theory through classroom & pool instruction on campus, and then apply this knowledge in 6 open water dives conducted in the company of Julian Rocks' vast array of marine life!
In just five days you will be fully certified to explore the awesome underwater world of fish, coral reefs, shipwrecks, caves, and more. You will also learn essential procedures for diving safely and responsibly while experiencing this totally new and exciting world!
New to the exciting world of diving?




Become certified in just 5 days!
Duration: 5 Days, 6 Dives YOU CAN: Dive up to 18m.
Stage 2: ADVANCED OPEN WATER*
Improve Your Diving Abilities
In the second stage of the program, you will learn the skills you need to take on more challenging diving situations, including deep dives, night dives, underwater navigation, search and recovery, and more!
This course consists of at least 30 hours of instruction using the latest study guides and DVD programs, and multiple dives suited to your interests within the categories of:
Underwater photography
Boat diving
Night diving
Drift diving
Underwater navigation
Low visibility diving
Search & salvage diving
Shore diving
Deep diving
Buoyancy diving
Computer diving
Marine identification
Have some diving experience?




No worries, join the program at the stage that best meets your experience!
Duration: 5 Days, 10 dives YOU CAN: Dive up to 30m & Plan Dives

*Starting at this level you must already have 6 logged dives (if you do not have this amount of dives, you will have the option to start earlier to complete additional dives)
Stage 3: RESCUE DIVER
**
Essential skills for Dive Leadership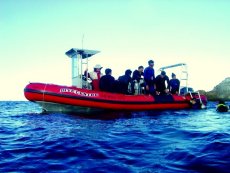 In this stage of the program you will learn the skills to effectively manage many dive emergencies, a benefit to you and to everyone you will dive with throughout the rest of your life!
Diver stress and the resulting panic are the leading causes of diving accidents and emergencies; through this course you will be equipped to prevent such emergencies when possible and handle any emergencies that may occur. You will learn the theory behind recognizing stress and effectively dealing with it and then put that theory to practice in real-life scenarios.
Interested in underwater Photography & Videography?




We offer an optional visual art component as an add-on to the program. Ask us!
This is a highly interactive course emphasizing teamwork. You will benefit first hand from the 20+ years of experience that Byron Bay Dive Centre and its instructors have in recognizing and handling diving emergencies - this is one area where the skills that you learn must be second-to-none!
Duration: 5 Days, 6 Dives YOU CAN: Effectively manage potentially life-threatening dive emergencies.

**Starting at this level you must already have 16 logged dives (if you do not have this amount of dives, you will have the option to start earlier to complete additional dives)
Stage 4: FIRST AID & O2 PROVIDER***
Essential skills for Life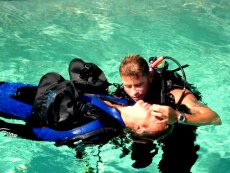 A prerequisite for the completion of Rescue Diver certification, this internationally recognised and Australian Workcover approved First Aid course will provide you with invaluable emergency response knowledge. You will learn skills to approach, assess, treat conditions, and administer O2 when necessary - essential skills for diving rescue as well as other first aid situations you may encounter in any walk of life!
Want MORE practical experience?




You are welcome to continue your traineeship with the Byron Bay Dive Centre
Duration: 5 Days, 6 Dives YOU CAN: Perform basic life support and first aid response procedures at home and the workplace (necessary for Rescue Diver Certification).

Stage 5: DIVEMASTER***
Transforming the Adventure into a Career
In the final stage of the program, you will receive a wealth of practical experience and knowledge in the dive industry. Through a finely tuned blend of academic sessions mixed with practical application you will achieve the status of Divemaster, the first step in turning your diving interest into a rewarding career! At this point your presentation and instruction skills will be honed, you will have individual and group assignments, and you will take the Divemaster examination at the end of the course.
CONGRATS!


You're ready to start your New Diving Career!
The program emphasizes flexibility in its teachings, so that you will be able to easily adapt your theoretical and practical knowledge to any dive operation anywhere in the world. You will have the required experience to confidently enter the diving industry and to lead dives, work on dive boats, and teach qualified courses.
Duration: 10 days + 2 weeks practical and the required amount of dives for DM certification YOU CAN: Start your NEW DIVING CAREER! CONGRATULATIONS!

***Starting at this level you must already have 22 logged dives (if you do not have this amount of dives, you will have the option to start earlier to complete additional dives)